Green and Black or Yellow Banded Poison Dart Frog Decal, Waterproof Vinyl Decal, Cute Amphibian Gift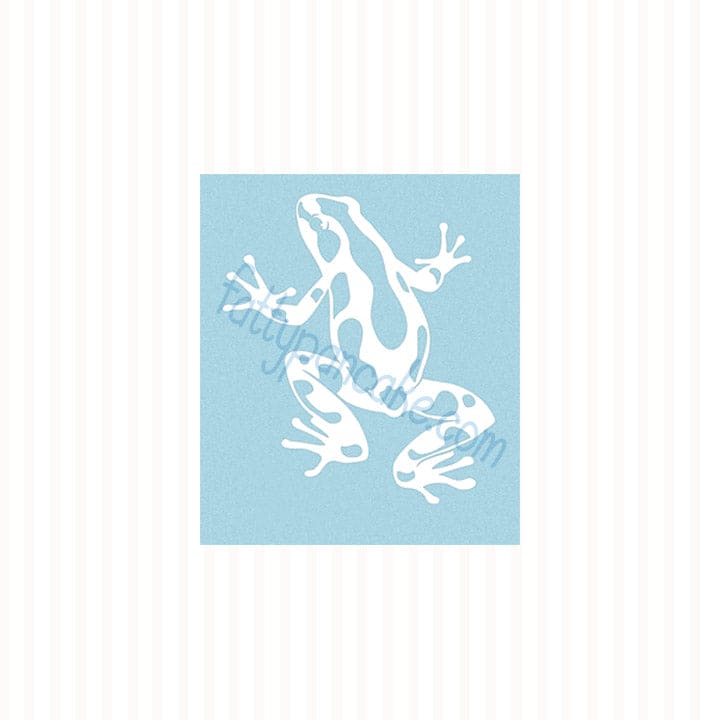 Green and Black or Yellow Banded Poison Dart Frog Decal, Waterproof Vinyl Decal, Cute Amphibian Gift
Measures 3" x 3.5" (W x H)

Get ready to take a walk on the wild side with our Green and Black Poison Dart Frog vinyl decal – a hopping dose of amphibian allure that's here to make your belongings a jungle of style! This daring little diva is the embodiment of 'hands off' – unless you're sticking it onto your gear, that is. The only danger you'll face is the risk of looking too cool, as this decal adds a sturdy splash of the exotic jungle to your life without the actual toxic part. Stick it on and let the Green and Black Dart Frog show off its wild charm – because who can resist a little stripey danger on their belongings?
Each design is cut on a permanent vinyl material with a strong adhesive backing great for use both indoors or outdoors. Typical durability is 1-5 years depending on conditions. It is not recommended putting onto vehicle body as removing the sticker might peel paint.

In stock, ready to ship

Inventory on the way
We offer returns & exchanges 30 days upon receiving your item. For refunds, we require the product returned to our shop in the condition it was received before a refund can be issued. Some items are not refundable.
For Damaged Items
If your product is damaged, you do not need to return it! We only require a photo of the item so we can get a new item printed and shipped to you.

Incorrect Design Received
Sometimes our supplier makes an error. You do not need to return this item, just send us a photo and we will get your correct item reprinted and shipped.
Wrong Size Exchanges
Please review and measure your frame based on the sizing charts we provide on our products. While we can make exchanges, it takes longer to get a new size reprinted and shipped. We will request the incorrect size be returned to us prior to reissuing a reprinted garment of the proper size.

Non-refundable Goods
Any personalized decal or product, stickers, and small accessory items are non-refundable.
Please see our refund page for more details.
In order to bring a variety of products to our customers, we enlist the assistance of various production companies; all who provide outstanding quality of goods. Each item is fulfilled once ordered so it will take several days before your purchase will be shipped.
Please see the boxed content on each product description to know estimated time frames.

During holidays, we highly recommend you order 2-3 weeks in advance to avoid delays.
To ensure the longevity of your garments color and print, use the following washing instructions:
• Tees: Wash in cold water, max 30 C or 86F
• Hoodies: Wash in warm water, max 40C or 105F.
• Use non-chlorine bleach only when necessary.
• Do not dry clean.
• Do not iron.
• Tumble Dry Low.
If you experience an issue with the print coming off on the first wash, contact us immediately as this denotes an issue with the tee!
Garment info:
• 100% airlume combed and ringspun cotton (fabrication may be different for certain colors)
• Unisex Fit (unless noted)
• Side seams
• Tear away label